I've been asked many times where to find the vintage style hair tape. The bad news…nowhere. The good news…there are substitutes available.
But first, what is hair tape for? A Google search for hair tape these days will bring up a lot more about extensions than anything else. That is not what we are talking about here.
The specific product is called Hair Set Tape. Hair set tape mainly helps to hold shorter pin curls from unraveling while setting.
So, these kinds of shorter curls are the ones that do not have the length necessary to hold themselves in shape. The rule of thumb is that the section of hair you are pin curling needs to be long enough to wrap around 1 1/2 times or more to stay with just a clip.
You might also like: Award Winning 1950s Hairstyle Illustrations by Warren Meek
---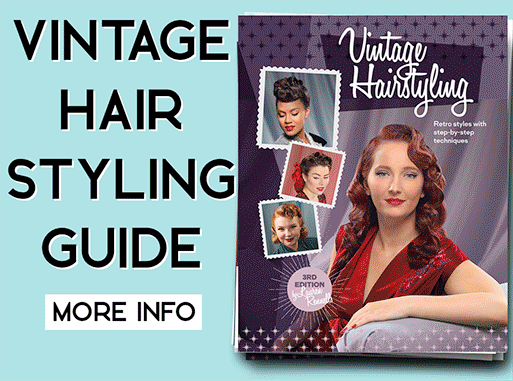 ---
But there are many instances, like with spit curls, in which the hair section only wraps around into 1 full circle or even less.
Does anyone sell hair set tape still?
The problem we face today is that no one makes Hair Set Tape anymore. I saw it last a few years ago at a Sally Beauty Supply. It looks that this tape is no longer being made by anyone.
I tried every avenue I could think of to locate some, but just no one uses it like they use to, so I don't blame the makers for letting it go.
Thankfully, this tape is really only special because…well it is pink and I am a sucker for pink hair tools. And it is special because it told us right on the packaging that it is for hair styling.
You might also like: What Decade is Your Hairstyle? !940s? 1950s? 1960s?
---
---
The Solution
There is a solution to our problem though. That solution is Paper Tape. It has all of the practical problem solving traits of the hair set tape. The adhesive is delicate enough to avoid pulling out your hair and the tape "breathes" so air can circulate and your set can dry. (I have seen instances of basic scotch tape used for this, but that is not going to allow as much air circulation.)
In order to make an easier recommendation, I bought 3 different kinds of paper tape to try out.
I tested 3 different tapes. They each had their pros and cons:
Walgreens Paper Tape

The Walgreens Paper Tape comes with a dispenser, which makes life easier, but it is almost too sticky. I worry it might not release the hair as easily when removed.

Nexcare Paper Tape by 3M (commissions earned)

The Nexcare Paper Tape by 3M, the original maker of Scotch Hair Set Tape, has a dispenser as well. Click the link to see it. This tape's adhesive is a little too weak for me. The hair slipped some underneath.

Band-Aid brand Paper Tape by Johnson and Johnson

The Band-Aid version does not have a dispenser, but the adhesive is a good strength.
So take this information with you to your pharmacy section to help you decide which tape will work best for you.