Pomades are, in my opinion, the most versatile category of hair product. Pomades, depending on their consistency, can act the same as many other products filling our medicine cabinets. A light weight whipped pomade is our anti-frizz serum or fixer of fly-aways. Medium pomades go a little extra distance to become our sculpting gel. The extra strong pomade becomes like glue to form your hair into just about any shape your brain can conjure.It can be a daunting task trying to figure out which one is right for your application, so I am working on a long line of reviews so you can hopefully make the best educated guess as to what it is you need.
Today is Schmiere by Rumble 59, a German brand that also designs clothing and sells other various Rockabilly products. You can purchase directly from them or you can bug your local shop into carrying the brand. I am putting their products on my list of great pomades. They are strong without being to greasy or heavy and there are a number of applications they can be used in.
Be sure to check them out at www.rockabilly-rules.com. Their hair grease is listed under Accessories.
The first up to bat is their lightest pomade called Pomade Weich. There is a boy bird on the package, but this is a perfect pomade for women's hairstyles.
For one thing, it is pink and the texture is whipped and fluffy. The scent took me a little while to put my finger on, but I think it is apples. I started having flashbacks of this apple shampoo my grandma kept in the kids bathroom. I think there is actually a company trying to bring that apple shampoo back, but I digress.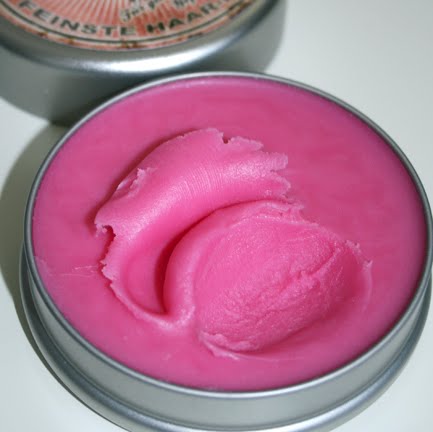 The super light texture is just right for taming fly-aways without weighing down your curls, especially if you have fine or medium hair. Its light texture also avoids that greasy look you can get with heavier pomades.
Next on the list is their geared toward girls pomade. It is actually a middle weight pomade and they call it für Mädels.
The scent is floral and the pomade is a coral pink color. Like I mentioned, this is a middle weight pomade and would be better for medium to thick hair. It may be a bit too heavy for a fine haired girl who doesn't want to look like she has pomade in her hair.
It's a gooeyer texture, like vaseline. This is a great hair former. If you are looking for something to create some crisp victory rolls or slick girl pompadours, this is an awesome product.
This next one is also a middle weight pomade called Pomade Mittel. I'd like to emphasize that not all pomades that are packaged to appeal to men are good for only men. It is all in what you are trying to accomplish. This package looks like it should be for a boy, but let me tell you why you should consider it, especially if you are a blond.
The product inside is blue. Again you would think it should be for a boy, but I like this as a unisex product. It has a clean scent that I would not call masculine or feminine.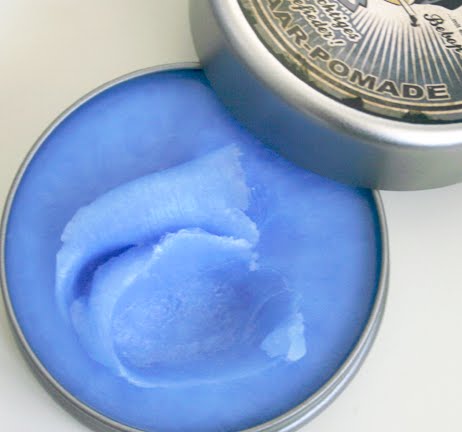 The consistency is similar to the für Mädels, so it is good for medium/thick hair and great for forming rolls and pomps. I would like blonds to consider this one because I myself used it on my hair when it was still blond to create a fauxhawk for a friend's party and it added a tremendous amount of shine to the blond and kicked back the yellow in my hair some almost like a light toner. We should always consider the color pomade we are using on our hair and how it may actually work for or against us and our hair color.
We now move onto the hard core stuff. If you have a beau at home who is looking for a good heavy strength pomade, this will do it. It is called Pomade Hart.
The color is light and disappears when you apply. It almost needs no melting in your hands before applying to the hair because Schmiere did such a good job with the viscosity. It smells citrus, so it could be great for a girl too who needs something ultra hard.
The sticky factor is awesome. No hair is moving under this stuff. I tried to take a picture illustrating that the skin of my fingers is sticking together with the strength of this stuff, but that doesn't mean it is like a gel. It works like gel does, but without that nasty stickiness gel leaves on your hands and in your combs.
Last, but certainly not least, is a special pomade for a very specific application. It is called Knüppelhart and boy does it pack a punch.
This stuff looks like shoe polish in the can. It doesn't take a rocket scientist to figure out who this best works for. It has got a lot of stick to it for hard hold.
The color is specifically for dark hair and adds a tremendous amount of shine when applied. The scent is very masculine and smells like men's cologne, but a good one.
Like I mentioned before, these are high quality and if you think one of them is what you need, go for it.