This post on tips for healthier fine hair from my own vintage hair nerd perspective use to have a different title. "100 times a day is an extreme, but yes…for hair health brush your hair a lot" was the title before. Hence the image of Jean Harlow brushing her hair as the feature image.
But, alas, in order to appease the SEO gods… you know… Google… I have reworked this fine hair advice article to be easier for you all to find in your searches, but it still has all the vintage hair nerd twists you have come to love from the Bobby Pin Blog. So let's get into it!
My own fine hair health
I'm really into hair health these days. I have really fine hair and I have been over processing it like crazy. We should all be paying attention to hair health in general. It is a huge indicator of your own general health. Poor hair health can be an indicator of many things like poor diet, thyroid issues, or poor circulation.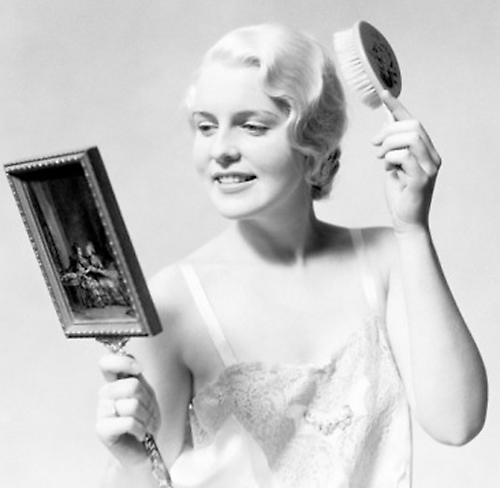 My fine hair woes have been something I have been battling since I was a kid. My mom told me that when I was 2 years old, she was honestly worried if I would ever have hair. 🙁 My toddler hair did grow in eventually, but I have always had fine hair. It's a family trait.
So I do what I can to try to keep it healthy and as full as possible. I could stop coloring my hair and that would help a little, but I'm a professional hairstylist and that is hard pill to swallow. 
Brushing your fine hair 100x? Really?
Let me get back to the point of this post…the old wives tale that you should brush your hair 100 times a day. This is, in fact, partially true. Marcia Brady was onto something. But 100 times is an extreme that I would not recommend.
The origins of 100 brushes a day was more of a cleansing technique back when women could sometimes go multiple days or even weeks without washing their hair.
Victoria Sherrow explains in the Encyclopedia of Hair that, "Victorian hairstyles for women…was considered a primary aspect of a woman's appearance, and long, thick hair was admired. Girls and women spent time each day grooming their hair. Some historians think the idea of brushing a hundred strokes per day originated at this time, but the purpose of the brushing may have been to get rid of lice nits more than to improve the hair's appearance."
You might also like: Crazy haircare tips from the 1920s
The practice continued through the early and mid-20th century for women who were still only washing their hair about once a week. Brushing helped work out the oils and dirt build up when coupled with a little talc powder. And although it may be a little bit of a dated idea, the practice of a good scalp brush promotes a healthy scalp and healthier hair.
We hairstylists still have to learn the scalp treatment in beauty school which includes the brushing of the scalp with a natural hair brush. Brushing helps remove debris, dirt, and other impurities such as uric acid crystal deposits. It exfoliates dead cells from the scalp, which encourages cell renewal. It releases sebum which moisturizes and increases blood circulation through the scalp which increases circulation to the hair follicle. If you haven't ever seen a scientific diagram of a hair follicle, there is a blood vessel directly attached to it that provides the hair shaft its nourishment as it grows.
---
---
Easy steps to increase circulation to the scalp and improve hair health.
Do these steps all in one sitting in the evening.
If you legally can and it's not against your doctor's orders… drink a glass of red wine. Yes! This thins the blood which helps with circulating to the hair follicles.
Use a soft bristle brush or a natural bristle brush like boars hair. Starting at the front hairline, begin brushing against the scalp. You should feel the bristles gently scraping against the scalp. Then pull the brush away to move along the shafts of hair distributing the oils along the hair shaft.
Move to the nape of the neck and do the same brushing up along the back of the head.
Then part your hair down the middle. Brush down and to the side from the part to get circulation going through the crown and occipital bone area.
Last, massage a peppermint oil into your scalp. The tingling sensation of the oil increases blood flow to the follicles. Leave the oil in overnight and then wash it out in the morning.
Supplements and topical products (snake oil?)
The snake oil for women for many years was hair growth products. They were sold to men as well. Full, healthy hair was a sign of health overall. Illness and malnutrition caused hair loss, so great hair meant you were a fine human specimen. So these products that did nothing really were advertised to be the answer to all of your hair woes.
Disclaimer: I am not a doctor and am not here to give you medical advice. Any supplements or topical treatments you are thinking about for hair health should be discussed with your doctor first.
But science has finally caught up with the perils of fine hair women today. I have seen women have some great luck with Rogaine for women (Minoxidil topical treatments). You can just do an online search for before and after images and see the positive results women have gotten. It's not just for men, but keep in mind that you can't just go grab your husband's or your dad's Rogaine and put it on your head. Men's treatment is formulated for their hormones/chemistry. And of course read the fine print about cautions and such.
You might also like: Techniques for Shaping Vintage Hairstyles
I take a supplement on and off called Viviscal that also comes with a topical serum. It seems to work quite well when I am consistent with it. Keyphrase for everyone trying to get thicker hair… consistent use. If you only do the work once or twice a week, it isn't really going to do much of anything.
Quick fuller hair tricks – Fake it until you make it
Sometimes… most of the time… we don't have 6 months to do all the things to get your hair growing thicker. I do hair on women for events and photoshoots all of the time and I get a lot of women in my chair with fine hair and it is my job to make it look fuller and thicker… like NOW.
So I have my tried and true quick tricks and hair products that make my client's hair appear to be thicker and fuller, even if it is just for the night. It really comes down to heat and hair products.
Blowdry method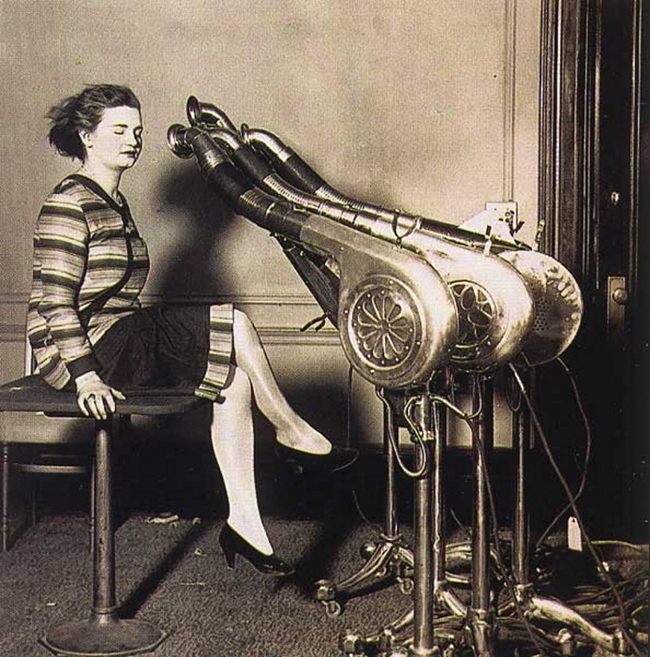 If you want fuller looking hair, the worst thing you can do is let your hair air dry out of the shower laying flat down on your scalp. Hair is like clay. When it is wet it is sculptable. When it is dry, you've got what you got. Here are the basics of my method:
I apply a root lifting product on the hair roots while they are still damp. My favorites are Kenra Root Lifting Spray or SexyHair Big Blow Dry Volumizing Gel.
I then spray a hair plumping product like Kenra Platinum Thickening Spray throughout the strands of the hair.
Then set your hair however you want it to dry, whether you are going to blowdry it or set it in curls. If you are blowdrying, either use a round brush and pull it up toward the ceiling while you are drying the hair or hang your head upside down while your dry.
If you are setting your hair in curls for a vintage hairstyle, I highly recommend setting in magnetic rollers (or if you have shorter hair self-grip rollers). The rigidity of the rollers will give you more volume after you take them out.
You might also like: The Best Heat Protection to use with your Curling Iron
Dry Hair Method
When I am working on clients for events, we rarely have time to blow dry the hair. Everyone is asked to have clean, dry hair before they sit in my chair for a vintage updo for an event. So here are my steps for fine hair. They are very similar to the blow dry method, but with a few changes.
I still apply a root lifting product on the hair roots. When hair is dry, I prefer a spray like Kenra Root Lifting Spray in this situation. It dampens the roots a little which give me a little more control.
Then I use a handheld hairdryer and a comb to both lift the hair up toward the ceiling and dry the root simultaneously.
I then spray a hair plumping product like Kenra Platinum Thickening Spray throughout the strands of the hair. This generally dries quickly on its own.
Then everything I do, I try to keep the hair "up". I use volume curls and back combing at the root all in an effort to keep volume in the hair.
When your hairstyle is finished
When I am finished, if I have someone with an especially fine hairline/upper scalp and their scalp is showing through a little, especially on fine dark haired clients, I will sprinkle a little Toppik Hair Building Fiber over any areas that need it.
And as always… Happy Hairstyling!
Disclosure: Some of the links in this post may earn me a commission. I link these items because of their quality and not because of the commission I may receive. I am an independent blogger and I write based on my own opinions.