I'm kind of obsessed with this vintage women's magazine called Charm right now. As it's tagline states, it is, "for the exciting woman with a job." I'll let you digest that statement for a moment.
As you may be able to tell from the tagline, this magazine's editorial content and advertising is geared toward women who are working or looking for a job. The ads include uniform companies, airline stewardess help wanted ads, comfortable fashion shoe ads, and much more. The fashion spreads feature models in the midst of professional actions like reading a memo or typing. The articles include spotlights on powerful women in business. It's just all around fun to flip through. I think I am going to have to start a collection of these. 🙂 Fashion magazines are my favorite source for insight into 1950s makeup.
For the woman of 1959 who is going to wear one of the many blue outfits featured in the Happy Blues article from the February issue, Charm suggests this makeup combination…
All Eyes on Blue
Match bold and brilliant eye to the singing, stinging blues in fashion: the merest film of Turquoise eye shadow, the audacious stroke of Parisian Grey (charcoal/blue) eye-liner, and the Sable Brown mascara are all by Maybelline.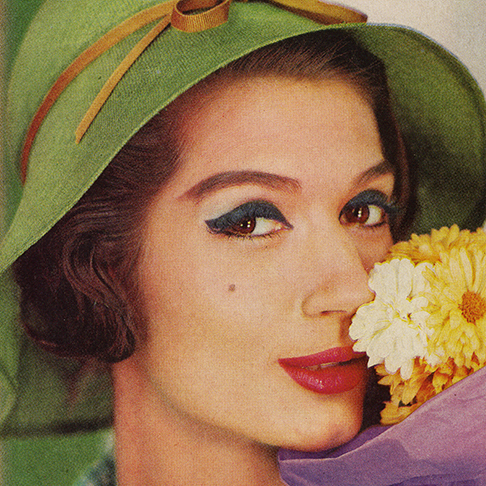 ---
---