I promised a few weeks ago that I'd share some of what was in the 1931 and 1946 American Hairdresser magazines I picked up at the Vintage Fashion Expo. I scanned some of the more notable details from the 1946 issue that I thought could easily be incorporated into our own modern vintage hairstyling lives. I'll do the same soon for 1931.
1. Forward Brushed Bang
This detail could be used on just about any hair length. Curl a decent sized section on the top front of the head. Brush it all into one big piece going forward to make a faux bang and then direct the ends brushing over to the upper right side of the head so it swoops over. Pin the ends in place. You can brush the ends into one giant dry pin curl or fluff the curls so you make a pretty puff of curl like a poodle hairstyle.
---
---
2. Fine Hair Trickery
Please make a note of the parting this hairstyle has in the back, because it can be very helpful for anyone who has really fine hair like me. Look closely and you will see that the hair is in 2 sections. The little piece above the model's right ear is one section. The second section, everything else, is brushed all the way around the head and styled to be seen at the front of the hairstyle. I do this a lot. When I brush everything to be seen from the front, I can "trick" the volume to look bigger because I have more hair to work with in that section.
And it looks really youthful and cute.
---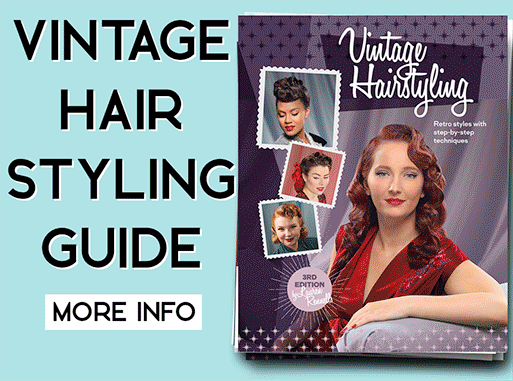 ---
3. 1946 Makeup Colors
I love this Maybelline Ad for so many reasons. The biggest is the little drawings of Maybelline makeup products available in 1946. The captions describe that you can get their cake or cream mascara (both applied with a brush resembling a teeny-tiny toothbrush) and it comes in black, brown, or blue. The eyebrow pencil comes in brown or black, because at the time, I don't know why, if you were a blonde or a redhead there was no need to match your eyebrows to your hair color. And eyeshadow is available in blue, brown, blue-gray, green, violet and gray.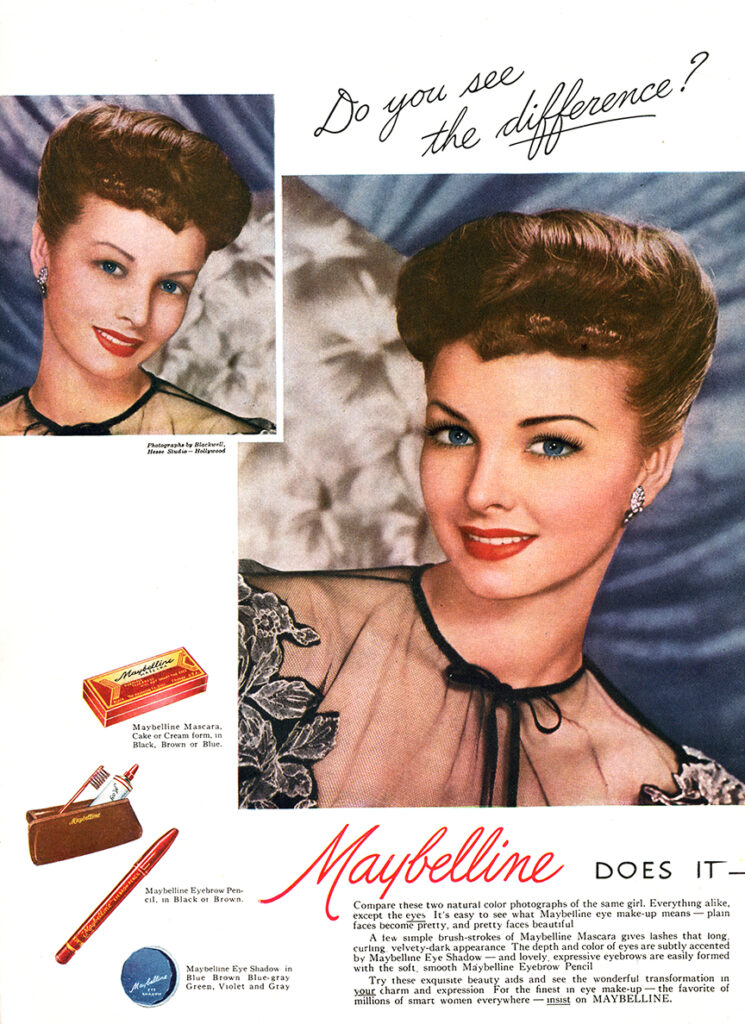 And on one final note.
It's easy to see what Maybelline make-up means – plain faces become
pretty, and pretty faces beautiful.
I don't get mad about these things. I just sort of look at them and say, "Huh. Glad advertising is not still like this." I picture a borderline misogynist male copyrighter in an advertising office full of other men writing the copy for this ad.
wtf. Apparently, if you are plain, no amount of makeup is going to help you look beautiful, not even Maybelline. Again. wtf.