As promised, I am posting some pages from my 1931 American Hairdresser Magazine that I picked up at the Vintage Fashion Expo in Santa Monica back in May.
Hairstyles in the early part of the 1930s were a crossover from what was popular in the 1920s. Fashionable women still wore finger waves conformed to the shape of the head and bob hairstyles.
Young actresses like Barbara Stanwyck and Joan Blondell sported these same close vintage waves, but with a key difference. In the 1920s, bob hairstyles were often cut with a shingle or tapered cut. By the early to mid 1930s, bobs were left a little longer and the ends of the hairstyles were left in loose curls. Note the hairstyles in the page from the Coiffure Guild Pageant below.
Coiffure Guild Pageant
Other than the beautifully set skip-wave pattern on this page, I really love the hair comb placement and how it illustrates that using hair combs or bobby pins can add a lot of dimension and form to a waved bob hairstyle. Note that the lovely vintage hair accessory combs are helping exaggerate the wave.
I also really like the idea that there was something called the Coiffure Guild. I kind of want to start a band of vintage loving hairdressers called the Coiffure Guild. Who's with me?!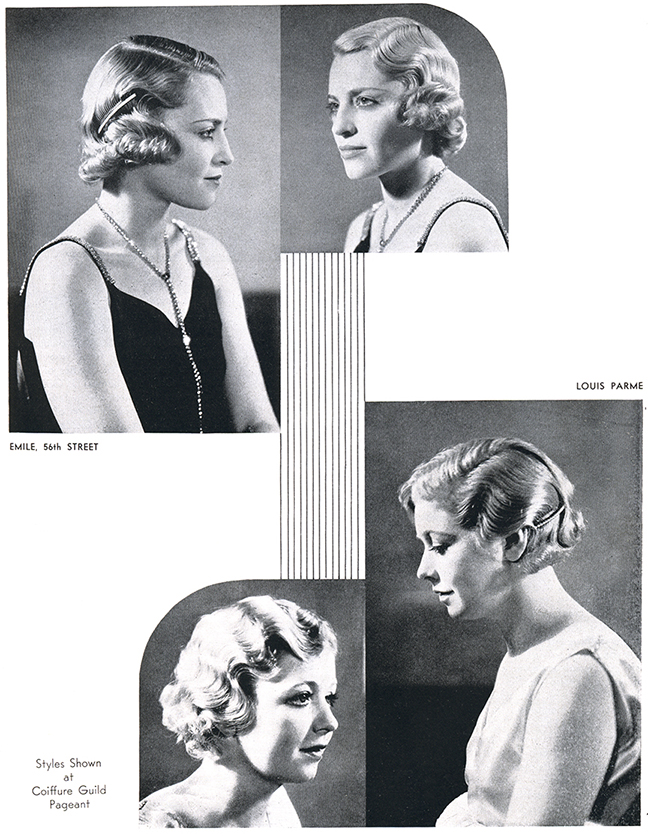 ---
---
Modernistic Permanent Waving Machine Co.
Most of the ads in this magazine were for hooded hairdryers and those crazy electric perming machines, also known as the Nessler permanent wave machine after it's inventor. I found out a few years ago that the perm machine idea was coming back in Asia and wrote about it.
For all those hairstylists out there right now that are making money on ombre color or vivid color applications, these machines were what got women into the salon 85 years ago. That $99.50 price tag to buy the machine is equal to $1500 in today's currency. That hairdryer purchase price was equivalent to $680 today. Think about what one piece of equipment in your salon today cost $1500? Could you imagine paying $700 for a hooded hairdryer?