The new 3rd Edition of Vintage Hairstyling: Retro Styles with Step-by-Step Techniques is now available! After a long year, and a lot of starts and stops, the printer (printed right here in the USA), has just delivered the new book!
I am so excited about it! It looks better than I could have ever hoped!
If you have been thinking about purchasing the new edition, but want to know more about it, you have come to the right place! This is the 1st of 5 blog posts I have written to share some of the information you will find in the book and some of my favorite parts of the book.
If you are unfamiliar with what this book is or what the 2nd Edition was, here is a quick synopsis. Vintage Hairstyling is a tutorial book on recreating hairstyles from the 1920s, 1930s, 1940s, 1950s and 1960s with start to finish instructions using hundreds of detailed photographs. The book includes a breakdown of the techniques used in the past, modern equivalent options to achieve the same look, and ideas on combining elements to suit your hair and tons of advice to perfect your skills.
In part 1 of what the new book is, I am covering the Introduction and Tools sections of the book.
Introduction
The introduction of the 3rd Edition starts at the beginning. What is vintage hair and why do we love it so much? These first pages also include info on how to use the book to get the most out of it and terms to know that will be used throughout the book.
The next few pages cover defining elements of each of the 5 decades of the 1920s-1960s. And the Design section explains how to use the elements of hair design to recognize and create your own unique hairstyle that looks like the time period you would like to emulate. Also included are some of the examples in the book of problem solving techniques on making your hair texture and length work for different vintage hairstyles and differences in hairstyle outcome you can expect with different textures and length.
---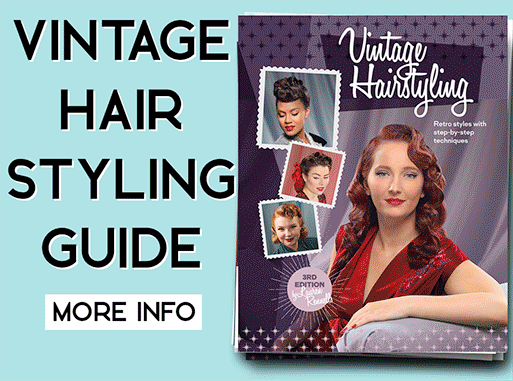 ---
Tools
The tools section of the book is updated with the latest tools available today for creating vintage hair. These are my favorite go-tos for when I am styling hair. I have expanded this section from the 2nd Edition with tips on choosing the right tools for meeting your goals and the pros and cons of using some tools over others.
In the next post featuring what the new book is all about, preview the Curling and Brushing/Shaping sections.
Read more posts previewing the 3rd Edition of Vintage Hairstyling: Retro Styles with Step-by-Step Techniques