Are you trying to locate a hairstylist and/or makeup artist in your area that specializes in vintage hair and makeup?
Then this is the blog post for you!
Here you will find an extensive list of vintage hairstylists and makeup artists.
Locating a hairstylist that can give you that great vintage hairstyle is not always easy. With too many social network platforms to count, you might be missing someone in your area because you are searching one platform, but they advertise on a different one. Or maybe you are using specific keywords to search that don't quite line up with the keywords the stylist is using to advertise themselves.
In this blog post is a list of vintage hairstylists and retro makeup artists by location. Please scroll through to find your country and your state/province. The list is alphabetized first by country and then by state/province.
Table of Contents (Click to jump)
If you can't find someone in your location in this post, click here to scroll to my tips for searching for a vintage beauty specialist.
If you specialize in vintage hair or makeup and would like to be a part of this list, please email me through my contact form with the name of your business and city/country location, a link to your website/Facebook/Instagram where your portfolio lives on the internet, and a sentence or 2 of what you can do.
Also, vintage hair and makeup pros, see my tips for how you can make it easier for clients to find you at the end of the blog post. Thank you!
---
Australia Vintage Hairstylists and Makeup Artists
The Distinctive Dame: Melbourne www.damesofdinstinction.com.au
Dames of Distinction is a vintage parlour styling your hair and makeup just like the starlets of the Golden Age. We also offer nail art and vintage (half moon) manicures.
---
Canada Vintage Hairstylists and Makeup Artists
British Columbia Vintage Beauty Specialists
East Vanity Parlour: Vancouver, British Comlumbia www.eastvanityparlour.com
East Vanity Parlour is most famous for our vintage updo's, classic sets and old school styles. Though the days here are packed with friends and clients maintaining their cuts and couture colors, it often gets bombarded by a frenzy Burlesque inspired beauties primping and prepping for the evening.
Manitoba Vintage Beauty Specialists
The Sapphire Hair Lounge: Winnipeg, Manitoba www.thesapphirehairlounge.com/
The Sapphire Hair Lounge provides the perfect mix of modern and vintage, where truly whimsical hairstyling takes form. They want you to be the next beauty featured on their Star Photo Wall!
Nova Scotia Vintage Beauty Specialists
The Vintage Hairdresser: Halifax, Novia Scotia @thevintagehairdresser
The Vintage Hairdresser is a hairdresser in Halifax, NS that loves her work and vintage style.
Ontario Vintage Beauty Specialists
Mrs. Rees' Vintage Beauty Parlour: Belleville, Ontario. Mrs. Ree's Vintage Beauty Parlour
Mrs. Rees' Vintage Beauty Parlour's owner, stylist, Michele Rees, worked in theatre and film styling period hair and doing hair colour. The salon offers a full range of hair services including vintage hairstyles.
Bombshell Hair Design: Ottowa, Ontario Bombshell Hair Design by Alison
Bombshell Hair Design specializes in vintage hairstyling and contemporary mobile bridal styling.
Blonde Moxie Makeup: Toronto, Ontario Blonde Moxie Makeup
Blonde Moxie Makeup's Larissa is a diverse and multi talented makeup artist and has been working in the Toronto makeup industry since 2005.
Kelly Grace Vintage Hair: Toronto, Ontario @kurlygrace
Kelly Grace Vintage Hair styles curl sets, vintage brush outs and up do's inspired by hairstyles of yesteryear and your Gramma.
Sarah London Bergman: Toronto, Ontario @sarahlondonmakeup
Sarah London Bergman is a talented film and theatrical makeup and hair artist who creates period looks for production.
Pin Ups & Pompadours: Whitby, Ontario https://pinupsandpompadours.com/
Pin Ups & Pompadours is a full service salon along with offering vintage hairstyles.
---
Ireland Vintage Hairstylists and Makeup Artists
Rosa O Artistry: Cork, Ireland Rosa O Artistry
Rosa O Artistry specialises in elegant looks that have a timeless and glamorous quality that never go out of fashion. Offering styles for vintage fairs, weddings, hen parties, or even just for ladies wanting a little luxury for a night out.
---
New Zealand Vintage Hairstylists and Makeup Artists
Ella Webster: Auckland Ella Webster at Killer Hair Salon
Ella Webster has a passion for vintage hairstyling and has become world famous working all over Britain, Canada & Europe bringing her unique brand of glam. You might also know her online as Miss Victory Violet.
Morgie Lee: Auckland Morgie Lee Vintage Hair
Morgie Lee creates vintage inspired hairstyles including updos, hollywood waves, beehives, and more!
The Powder Room: Wellington https://www.thepowderroom.co.nz/
The Powder Room is a full service hair salon offering cuts, color, vintage hairstyles, and special event hairstyles.
---
United Kingdom Vintage Hairstylists and Makeup Artists
Vintage Rocks Hair Parlour: Belfast, Northern Ireland https://www.facebook.com/vintagerockshair/
Vintage Rocks Hair Parlour team of stylists are some of the most creative, passionate and talented stylists around Belfast. In Vintage Rocks short but very successful time Clare has guided her team into the world of Vintage Hairdressing.
Pin Curls and Pearls: Birmingham, West Midlands https://www.instagram.com/pincurlsandpearlsvp/
Nikki from Pin Curls and Pearls creates authentic vintage hairstyles from 1920's – 1960's and also modern styles for all occasions.
Lynnette Chasmer: Essex https://www.lynnettechasmer.co.uk/
Lynnette Chasmer studied and qualified as a hairstylist at The London of Fashion. I now do bridal, prom, and vintage hair styles in my area.
Fine to Fabulous Salon: Hove, East Sussex https://www.instagram.com/finetofab_salon
Ingrid Watts and her team of hairstylists and airbrush makeup artists at Fine to Fabulous Salon are experts in vintage hairstyling and makeup specialising in vintage weddings, vintage makeover hen parties, birthday celebrations and special occasions.
Pin Curls and Pompadours: Leicester, Leicestershire Pin Curls and Pompadours
Pin Curls and Pompadours specializes in creating authentic vintage hair and makeup looks from the 1920's to 1970's and adores meeting other ladies who have a passion for all things vintage and am always happy to advise on vintage clothing and accessories.
Anneke Irving: London Anneke Irving
Anneke Irving is a makeup artist and hair stylist for any occasion that demands a little extra style or panache, from weddings, hen-do's and parties, to photo-shoots, film and theatre. Her skills cater for all occasions-simple, sassy, or sensational.
Flamingo Amy: Norfolk www.flamingoamy.co.uk
Flamingo Amy is a vintage stylist who is devoted to creating hair styles from the 1930's to 1960's, but is also interested in creating looks from other long past era's too!
Blissfully Vintage Hair & Beauty: South Whales Blissfully Vintage Hair & Beauty
Blissfully Vintage Hair & Beauty specialises in vintage style wedding/prom hair & makeup and also vintage hen party hairstyles!
Vintage Victory Rollers: Swindon, Wiltshire https://www.facebook.com/VintageVictoryRollers/
Vintage Victory Rollers offering vintage inspired hairstyling from the 1920's to the 1950's. Salon based in Swindon, but also available for location events.
---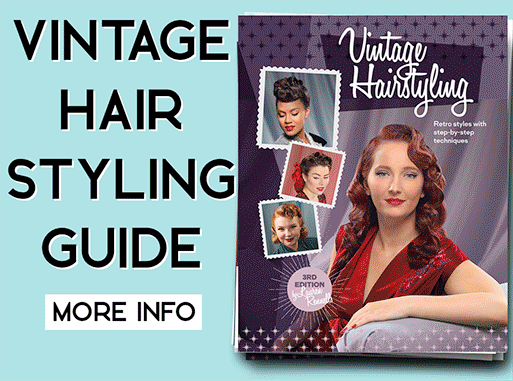 ---
United States Vintage Hairstylists and Makeup Artists
Arizona Vintage Beauty Specialists
Rebel Salon and Vintage: Phoenix, Arizona. http://www.rebelsv.com/
Rebel Salon and Vintage offers vintage hairstyles and makeup, haircuts, color and more!
California Vintage Beauty Specialists
Hair Artistry by Benson: Central California/Fresno facebook.com/hairartistrybybenson/
Hair Artistry by Benson is a multi-published Hairdresser specializing in vintage-inspired/pinup hair sculpting for photoshoots, special events, or any other special memories to be made.
GigiSpellbound: Downey, California www.instagram.com/gigispellbound_/
GigiSpellbound is a licensed cosmetologist located between Los Angeles and Anaheim. She specializes in 1940s and 1950s vintage hairstyles, as well as Gelx nails with detailed nail art.
Esther Vasquez: Los Angeles www.instagram.com/vtgesther/
Esther Vasquez is a native Angeleno and Los Angeles-based hairstylist with a penchant for ultra-glam and feminine hair. Her vintage hairstyles have graced many magazines and advertising campaigns.
His Vintage Touch: Los Angeles His Vintage Touch
Tony Medina, known as His Vintage Touch online, styles burlesque queen Dita Von Teese and many other models, celebrities, and brides in L.A.
Iconic & Beautiful: Los Angeles Iconic & Beautiful
Stacy Lande is the hair and makeup artist behind Iconic & Beautiful. Working with Iconic Pinups photo studio in Los Angeles, she also provides on location makeup and hair services for weddings, events, and photoshoots.
The Vintage Hair Salon: Newport Beach, California www.lisasmystylist.com
The Vintage Hair Salon specializes in vintage, retro, rockabilly hairstyles, men's barbering, ladies cuts and color, and curly hair.
Sarah Kelly: San Diego, California www.instagram.com/vintagehairbysarah/
Sarah Kelly is a Pulp Riot color artist, vintage hairstylist and also modern cut hairstylist.
Fox and Doll: San Francisco, California www.foxanddoll.com
Fox and Doll is an authority on vintage and retro makeup and hair of all eras. Innovative and creative styling to celebrate your true beauty and personal style. Specializing in commercial, film, print and bridal.
Vivian Dinis: San Francisco, California Hair & Makeup by Vivian Dinis
Vivian Dinis is available for weddings, proms, special events and other occasions. She has a passion for vintage hair and makeup and enjoy recreating the classy looks of yesteryear.
Erin Lopez: San Jose, California Do or Dye Salon
Erin Lopez at Do or Dye Salon specializes in accurate, smooth and beautiful period hair. She is available for weddings, photoshoots, fashion shows, parties, proms and sockhops. Events are important, and so is event hair!
Studio Glam by Lizzo: San Jose, California Studio Glam by Lizzo
Lizzo Damron of Studio Glam specializes in era hair from the 1920s to the 1960s. She also is also an airbrush makeup artist.
---
Connecticut Vintage Beauty Specialists
Frenchie's Hair Salon: Wallingford, Connecticut www.facebook.com/FrenchiesMUAH
Frenchie's Hair Salon is a modern day salon with a retro vibe. They specialize in classic styles mixed with current techniques and trends.
---
Colorado Vintage Beauty Specialists
Salon Millie: Denver, Colorado salonmillie.com
Andee Becker named her Salon Millie in the DU area after her grandmother. Her talents include cuts, hair color, special occasion styles, and vintage hairstyles.
Lauren Rennells: Denver, Colorado www.lrennells.com
Lauren Rennells is available for vintage hairstyles and makeup for photography, events, and weddings. Specializing in recreating hairstyles from the late 1800's through the mid-20th century and into the 1960's. On location services or in studio.
Seigi's Hair Design: Colorado Springs, Colorado https://www.facebook.com/SeigisHairDesign
Cosmetologist and color specialist with 18 years of experience behind the chair located in Day Lily Salon and Spa.
Marla Gingrich at Verve Salon: Fountain, Colorado https://www.vervesalon.co/
Cosmetologist and vintage hairstylist in Fountain just South of Colorado Springs.
---
---
Florida Vintage Beauty Specialists
Artistic Impressions by Riviera: Hollywood, Florida www.rivieraweddings.net
Artistic Impressions by Riviera will bring out the inner pin up girl in us all. From the decadent finger waves of the 1920s to the bedroom curls of the 1950s, she will effortlessly turn back the hands of time.
Crystal Lockinour: Clearwater, Florida http://www.crystallockinour.com/
Crystal Lockinour is a vintage hairstylist, makeup artist, and hair colorist based in the Tampa Bay area.
Lady Scarlet Artistry: Orlando, Florida https://www.facebook.com/LadyScarletHMUA/
Lady Scarlet Artistry is a published retro hair and makeup artist creating stunning looks for all retro & pinup events.
The Vintage Pinup Parlor: Vero Beach, Florida https://vintagepinupparlor.com/
Abby Gloria of The Vintage Pinup Parlor is vintage inspired hair and wig stylist, makeup artist, and teaches classes as a published pinup.
---
Georgia Vintage Beauty Specialists
Candice Poucher: Atlanta, Georgia https://www.instagram.com/miss_hair_extraordinaire/
Candice Poucher is a vintage hair specialist and wig styling working out of the Wayward Parlor in East Point, Georgia.
---
Illinois Vintage Beauty Specialists
Tigerlillie Salon: Chicago, Illinois https://www.tigerliliesalon.com/
Tigerlillie Salon specializes in vintage hairstyles and updos, Tigerlilie Salon offers all types of cuts, colors, styles and perms to men, women, and children.
---
Massachusetts Vintage Beauty Specialists
Beautician Briana: Boston, MA https://www.facebook.com/beauticianBriana/
Beautician Briana is a hair stylist specializing in vintage hairstyles and vintage haircuts.
---
Michigan Vintage Beauty Specialists
Rebecca Gohl: Grand Rapids, Michigan https://rebeccagohl.com/home.htm
Rebecca Gohl specializes in 1800s hairstyles (Marie Antoinette), 1920s – 1960s period correct hair. It's her passion and her job. For that she is the luckiest person in the world.
Root Cellar Salon: Lansing, MIchigan https://www.facebook.com/therootcellarsalon/
Root Cellar Salon provides vintage hair styling, fashion colors, and everyday hair care. They offer a variety of hair services in a comfortable one on one environment.
Minnesota Vintage Beauty Specialists
Elysium Hair Studio: Brainerd, Minnesota https://www.elysiumhairstudio.com/
Elysium Hair Studio's Trinity Genoch has 15 years of experience in hair color and cutting and offers wedding styles including vintage wedding styles.
Jennie Gorbunow: Twin Cities area, Minnesota https://www.facebook.com/solamercury/
Jennie Gorbunow has been a hairdresser of 18 years offering colors, cuts, facial waxing, special occasion styles and vintage hairstyles.
---
Nevada Vintage Beauty Specialists
A La Carte Salon: Gardnerville, Nevada https://www.alacartesalon.com/
A La Carte Salon is located in historic downtown Gardnerville in a old cottage house built in 1895. They are full service salon and wig boutique.
Atomic Style Lounge: Las Vegas, Nevada www.atomicstylelounge.com/
Atomic Style Lounge is a full service hair salon in Downtown Las Vegas. Their stylists specialize in cuts, color, vintage hairstyles, makeup and more. Their retro themed salon is great for weddings and you can even get a ride to and from your appointment in their 1960 Cadillac!
---
New York City/New Jersey Vintage Beauty Specialists
Stevie Rosalie: New Jersey/New York City stevierosalie.com/
Stevie Rosalie styles era authentic hairstyling and makeup artist. She also styles and sells custom wigs, poodle toppers. and hair pieces.
Vinspire Me: New York City www.instagram.com/vinspireme/
Vinspire Me's Destinee Cushing is a freelance vintage hairstylist and makeup artist. She offers vintage and modern cuts, bridal and special event hair and makeup, workshops and private lessons and styling for photo shoots.
---
Ohio Vintage Beauty Specialists
Steph The Hair Alchemist: Cleveland, Ohio https://www.stephthehairalchemist.com/
The Hair Alchemist Stephanie Ruggeri offers full service salon services along with vintage updo hairstyles.
Amelia Belle At Hair Chiasso: Maumee/Toledo, Ohio www.instagram.com/ameliabelle01/
Amelie Belle is a vintage hairstylist who specializes in most eras. She was trained everyday by hairstylists who did vintage hair in the 1940s, 1950s, and 1960s that worked on important clients of their time. From these stylists, she learned how to do those styles the way they did back then! She now works from upscale salon Hair Chiasso in Maumee near Toledo.
---
Pennsylvania Vintage Beauty Specialists
Jessica Saint: Philadelphia, Pennsylvania https://www.jessicasaint.com/
Jessica Saint is a Philadelphia-based internationally recognized makeup and hair artist specializing in vintage hair and makeup from her studio.
---
Texas Vintage Beauty Specialists
Pin Curled Perfection, Brianna James: Austin, Texas https://www.pincurledperfection.com/
Pin Curled Perfection's Brianna James keeps herself refreshed in modern haircuts and coloring techniques, vintage hair and makeup is her expertise. Brianna has a strong clientele requesting vintage haircuts as well as styling.
Brittany Castaneda with Clive and Co: Dallas, Texas www.Cliveandco.com
Brittany Castaneda, celebrating 20 years in the industry. Her work ranges from classic vintage hairstyling to avant garde with a strong emphasis on precision haircuts,and blending techniques to create structured looks that are still soft.
LaDonna Stein: Dallas, Texas https://ladonnasteinmakeupartist.com/
LaDonna Stein is a Dallas based makeup artist and hairstylist specializing in vintage styles located in the heart of Deep Ellum.
---
Washington, D.C. Vintage Beauty Specialists
Lynne Evans: DC/Maryland/Virginia metro area. https://www.thestarletparlour.com/
Lynne Evans specializes in vintage hair styling and sculpting, makeup artistry, special events, and private lessons.
---
Wisconsin Vintage Beauty Specialists
The Revolution Hair Studio: Milwaukee, Wisconsin The Revolution Hair Studio
The Revolution Hair Studio's Natalie A. Gajewski is owner and rock'n'roll hairstylist extraordinaire. Men's and women's vintage hairstyles, special occasion styles, and awesome hair in general.
---
Tips for searching for a vintage beauty specialist located near you
The search for a local vintage hair or makeup expert can be accomplished several ways. There is a tremendous community online that connects with each other from all over the world to discuss and share their love and skills in vintage hair and makeup.
Instagram
Instagram searches have changed so much recently. We use to be constricted to only searching through hashtags. But if you are searching #vintagehairstylistfortworth, but the specialist uses #vintagehairdallas, you are going to miss each other.
Thankfully we can now search Instagram using keywords. There still may be a miss if the specialist isn't spicing up hers or his keyword descriptions, but the chances of crossing paths on Instagram are now much more possible.
Facebook Groups
Did you know that there are many Facebook groups that are comprised of people in specific areas that love vintage things? You can start a search on Facebook for the words "vintage" and "fill in the blank with your town or city". If there are lovers of vintage groups in your town, this search should find them and you can ask them if they can recommend anyone.
There are also groups on Facebook that include people all over the world that love vintage hairstyles. One of these groups is the Vintage Updos for Modern Girls. The group is a tremendous resource for finding information for all things vintage hair.
Ask Around Town
It seems like this would be an obvious option… to ask people in your area if they know of anyone that specializes in vintage hair. But maybe you haven't thought of asking a specific type of person that maybe is the exact person that would know.
Call a local vintage clothing store for a recommendation
Ask your local stage theater company
Do you know a girl who dresses in vintage regularly? Maybe she knows a hairstylist
So do your research and good luck with finding your next great vintage hairstyle!
Being more findable as a vintage hairstylist
You, as a vintage hairstylist, are in high demand, but are clients finding you? So many clients are looking for a hairstylist to give them the vintage hairstyle they are dreaming of and it is not always easy.
So I am going to give you some quick, easy steps to make sure your online SEO presence is optimized so your future clients can find you. What does it mean to have your SEO optimized? Imagine that the only thing Google or Instagram or Facebook can see are the words that you use.
So…
What specific words would a client search to find you?
Go to Instagram or Facebook or Google and type the name of your city or metropolitan area… and the words vintage hairstylist or vintage makeup artist or something of the like. Do you or your posts appear anywhere in the search results? If the answer is no, then we need to work on the words you are using in your descriptions.
Of course keyphrases such as "vintage hairstylist", "vintage hair and makeup artist", or "vintage wedding hair" are a must include in your descriptions and also do not forget your image captions.
Also, your homepage on your website and your descriptions in your social media posts should include where you are located and/or available to work. For example, my studio is located in Lakewood, Colorado, but I need to consider what words my future client will use to search for my services.
Lakewood is a suburb for Denver. There are also a few other metropolitan areas within a 45-60 minute drive from me that I am available for travel to, including Boulder, Fort Collins, and Colorado Springs. I want to make sure that I also use those cities in some of my descriptions on Instagram or Facebook so that I pop up in searches for those clients.
When you name your images to be embedded into your website, remember that Google reads those words as well. Including your city location and the keyphrases in the image descriptions will help your findability.
How many times should you use these words?
There is no specific rule about how often you should use the keywords that will direct searches toward your page, profile, or posts. You want to use them more than once or twice, but you do not want to oversaturate with the keywords. Google does not like every single paragraph to have the keywords. It interprets the page as spam at a certain point. If you get your keywords up to date and a month later you still aren't showing up in searches, you might need to add more.
Why can't Google see that I'm available to work in Columbis…I mean COLUMBUS!
Google will often autocorrect you when you misspell a word in a search, but it doesn't assume that the owner of a website or social media page meant to spell Columbus, not Columbis. (The u and the i are just so close together on the keyboard.)
I have seen listings in social media where a stylist misspelled the city they were in or wrote vintgae, instead of vintage. These misspellings are making it harder to find you, so be sure to proofread your writing and check for any important spelling mistakes.
Disclaimer
The Bobby Pin Blog has provided this list as a guide for people looking for a hairstylist or salons in their area that offer retro/vintage hairstyling and makeup services. The blog does not guarantee or sponsor any stylist or salon and suggests contacting them for further information on services and capabilities.