I love bangs! And have a number of girls ask me what options they have to work them into a vintage hairstyle. Here is a 50's option.
The setting pattern for the rollers is down below. The curls can be set with velcro or magnetic rollers. I prefer velcro rollers because the ends of especially short bangs "stick" better. You can also do this style with a curling iron if you don't want to do a wet set.
For shorter bangs tease and brush them into each other and use some pomade to sort of spit curl them over the forehead.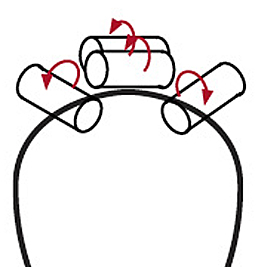 I use to do this type of bang style on one of my little old lady customers in hair school. Her bangs were a little longer, going down to the tip of her nose. If your bangs are longer, you can also comb the outer sections to form a little wave over the forehead. Wave them back above the outer corners of the eyebrows.
---
---