Here's another easy vintage hairstyle for natural curly hair. It's my second tutorial for this series and I have one more to come.

As I wrote before in the first Natural Curly Hair Tutorial, there is no need to make yourself insane trying to copy the curl level or texture of a vintage style. For a finished vintage hairstyle to look great, I believe the most important thing is to get the silhouette and form right. The silhouette or form in hairstyling refers to the outer shape of the hairstyle. Manipulate your curls to emulate the silhouette and you are ready to go.
Before
Keira's curl will be an amazing base for vintage hairstyles. Vintage hair was all based around curl.
For an Atomic Era – late 1940s to 1950s hairstyle, follow these steps:
01
The first step is parting the top section. The side part of the 1950s lined up usually with the peak of the eyebrow. This also helps with getting height in the bang area. After the hair is parted, set aside the top section of hair.
02
With the section of hair directly below the part on the left side of the head, pull the hair back and pin it against the scalp so you have a nice sweeping back of the hair behind the temple.
03
Most women in the 1950s had hairstyles that fell above the shoulders. It was considered the modern look after the longer styles of the 1940s. To copy this, take sections of the hair that hang longer and twist up into little bun shapes.
---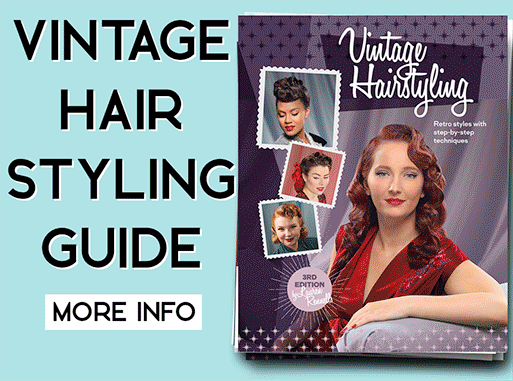 ---
04
Pin the hair against the scalp around the hairline at the nape of the neck to stay short. Do this in sections all the way around the back of the head.
05
Using a wide tooth comb, comb out directly above the forehead to smooth the hair a little, but do not continue the comb through the section of hair. Only comb about 1 inch worth of the hair length at the scalp. Curly girls know how disastrous it can be to put a comb through their hair. Friztown! This step is only designed to smooth and get some height right above the forehead to get the wave over bang effect.
06
Using your fingers, direct the hair on the right side that is still hanging down forward toward the face.
07
Use pins throughout the hairstyle to control the natural curl into the form you want.
Want to learn more vintage hairstyles for hair with natural curl?
Final Style
 Want to learn about the history and styles of makeup from the 20th century?