A reader requested that I offer directions on how I did the Victorian bride last summer.
This was a quickie. When I did this hairstyle on Laura it took almost 2 hours from start to finish. She was a perfectionist so there was a lot of moving small pieces around little by little for a half hour of that time. This is a basic idea though.
Start by parting the front section of hair down the middle and the rolling the hair out toward the ears in small rollers.
With a 3/4″ barrel curling iron, spiral curl the entire back of the hair. You can also use hot roller for speed and use the curling iron at the end for touch up curls.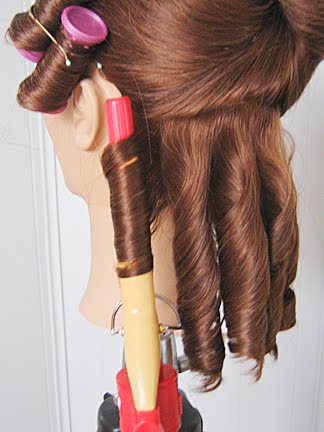 Pomade is very helpful for this style to control fly-aways. In a style this complicated, they are hard to get rid of once the hair is pinned in place.
These 2 curls are pinned in place to create the base of the style and to help provide fullness in the style.
The rest of the style is a combination of pieces of hair pinned in rolls or pinned with the curly ends hanging out. I did not do step-by-step on this because it would take way too much time. And it is impossible to recreate something exactly, so I just give the advice to play and pin until it looks right on the hair you are working on.
Here are a couple finished views of the back. Looking at it now, the pieces at the bottom should not hang so far away from the head. It should look like the cascade of curls are close to the scalp.

For the back of Laura's style, we left out a couple stringy curls at the bottom at the nape of the neck and this can be down around the rest of the face also. We did not for her style because she was afraid the curls would bug her after a while.
Remove the rollers from the front and brush the hair out into a wave.
I then split the front sections into thirds and did a very loose braid. It shouldn't look like a braid though. The braid is just to try to mimic a wave pattern without actually making a harsh marcel. She wanted it to be really soft.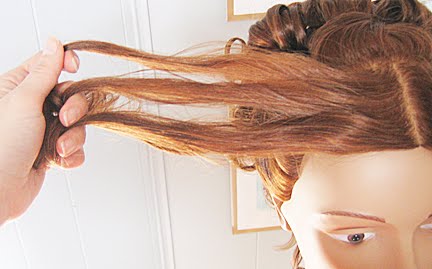 She wore a pearl comb like a crown and flowers in the back. Certainly not the easiest style I have ever done. I am not an expert on styles pre-1900, but it was a fun challenge and would love to try another one for another bride.