Brides on their wedding day, like these 1940s brides, have all put their personal style stamp on their veil and hairstyle. With the war going on, there were some 1940s bridal headpiece styles distinct to the time.
See all the posts about Vintage Wedding Veils of the 1920s, 1930s, 1940s, 1950s and 1960s
Veil Length of the 1940s
Because of the unique time the bride was marrying in, veil length in the 1940s varied from cathedral length all the way up to non existent. If a bride wore a traditional wedding veil, fingertip and cathedral length were very common. Less formal brides that wore hats often wore one that had a birdcage length net attached.
Need a Vintage Hairstylist for your wedding day? Vintage Hair Specialists in a city near you.
Wedding Veil Styles of the 1940s
Sweetheart Veil
Heart shaped veils and headpieces were popular for both brides and bridesmaids in the 1940s. With the two top semicircles of the heart perched over the apex of the head like a love halo, the headpiece rounds around the back of the head and is open at the back to fit snug.
Hearts were used often on accessories during the war. The symbol reminded soldiers and their loved ones at home of the bond they shared and hope for being together again soon. The shape was used most often in sweetheart jewelry that men gave to their, you guessed it, sweethearts.
Wax Wedding Hair and Veil Flowers
Wedding veils from the 1940s were often adorned with wax flowers. This tradition of small wax adornments worn in the hair dates way back.
Wax flowers were perfect for a wedding veil decoration. The wax sparkled in the light without the expense of rhinestones. Wax flowers had longevity and were easily accessible year round. They were also very affordable compared to fresh flowers.
If you have your grandmother's wedding veil with wax flowers and want to incorporate it into your wedding day, having the wax flowers from the veil incorporated into a new headpiece is a great option.
---
---
Tiara Wedding Veils of the 1940s
There were veil styles of the 1940s that carried over from the 1930s, like the tiara wedding veil. Even wedding dress styles of the late 1930s and the early 1940s had similarities which makes it difficult to decipher between images of brides of the two decades if you don't have a date written on the photo.
The tiara style wedding veil was very common in the 1940s and were made in many styles.
WWII Bridal Hats and Flowers
The informal bride of the 1940s headpiece was sometimes a short simple veil, but more often than not she wore a hat that looked good with her outfit, especially one that had a veil netting, similar to a birdcage veil, already attached, which was a common hat style. She can easily be recognized by her smart suit or Sunday best dress with a hem just past her knees and her beautiful corsage or bouquet.
There were many reasons for a woman in the 1940s to forgo the traditional wedding dress and veil. It was often because she was getting married in a hurry. A man called up for duty in the draft had a week or 2 before he would need to leave for boot camp. That left little time for his sweetheart to gather a bridal trousseau if they wanted to get married before he left.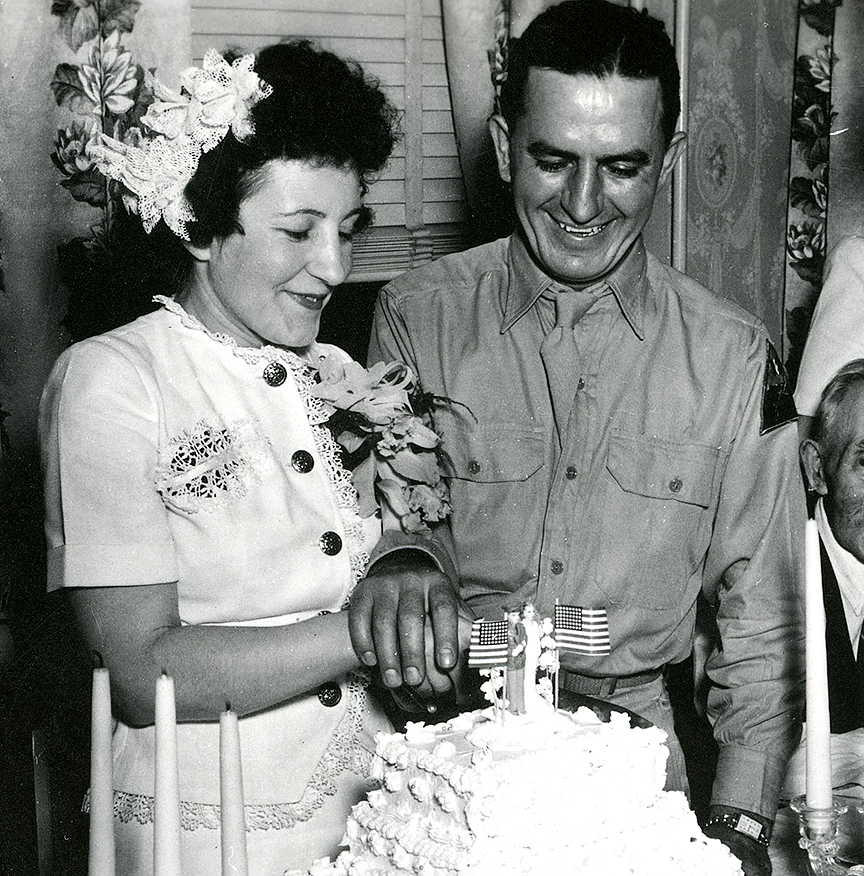 Also, with the rationing of materials like silk and nylon, it was harder to get a full traditional gown to be married in. Women would often borrow an existing dress from a friend or family member.
And still some brides were getting married far from home. They were stationed all over the world during military service and might only have the clothes she brought with her.
Vintage Wedding Veils: See all posts about wedding veils of the 1920s, 1930s, 1940s, 1950s, and 1960s.
1940s Bridesmaid Headpieces