Dry skin in cold weather is a bear to deal with. There is an old-fashion recipe though to combat it and make your hands look 10 years younger.
My boyfriend hasn't seen me do this yet and I think it may be the one thing about my retro beauty regimen that he will make fun of. 🙂 …but I don't care. I swear by it as a way to keep my getting older hands soft and younger looking, especially in this dry Colorado air.
Disclosure: Some of the links in this post may earn me a commission. I link these items because of their quality and not because of the commission I may receive. I am an independent blogger and I write based on my own opinions.
The Moisturizing Routine – Shea Butter
At night before bed, start with shea butter. The best way to get it out of the jar, without getting it under your nails is to put the top of your nail in and scoop backward so the top of your nail is what scoops it out and not your finger print side. I also use this method for getting all my creams out of jars. Then you don't get gunk under your nails.
A 1/4 teaspoon size of shea butter should be enough. Rub on your hands. Use enough that your hands should feel a tiny bit slimy. Eeeuuwww.
You might also like: The Most Beautiful Hands in Hollywood in the 1940s
Hand Lotion
Next use your favorite hand lotion. I am using Queen Helene in this illustration which you can get at drug and grocery stores or on Amazon. You can really use whatever is your favorite. It doesn't matter as long as you like the scent. So if you have a favorite from the mall or department store, it will work fine. You just want to use extra. You should not be able to rub it all in. The shea butter will keep you from rubbing it all in anyway, but there should be a little excess on your hands. Again, slimy.
You might also like: Ideas for your vintage Nail Polish Color
Gloves Overnight
Then put on some very fashionable cotton medicinal gloves and go to bed. This 6 pack is great, because, even with washing, the inexpensive white cotton can get a little discolored. (commissions earned) Maybe these black cotton gloves make more sense now that I think about it. 🙂
Make sure you are finished with everything else you need to do before bed before doing this regimen.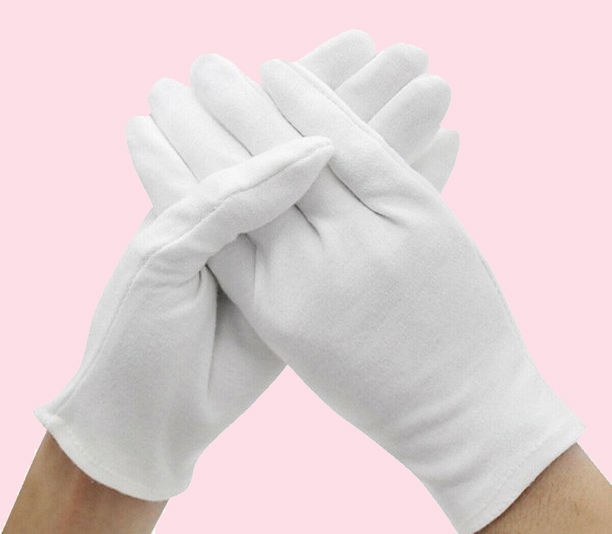 You will wake up the next morning with the softest hands you have ever known.
---
---