There are lots of ways to tie a vintage hair scarf, but I saw this photo of actress Christine Larson and loved the shape of it. I thought it would make a cute two-tone idea. So I combined blue and red tropical print standard square bandanas to make this tutorial fitting the same shape. Or you could use 2 colors of the Bouffant Tidy Tresses Scarves from VintageHairstyling.com.
Summers are rough and it is always nice to get your hair up and off your neck when it is hot outside. It is even nicer to avoid doing your hair when you know it is just going to get messed up when you go swimming or perspire out in the hot sun.
---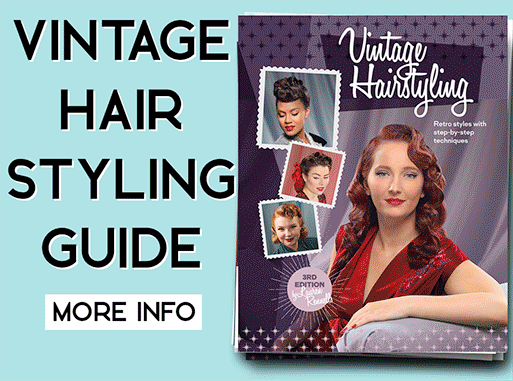 ---
Actress Christine Larson
Christine Larson was an actress in the late 1940s and 1950s, but she was a creative person all around too.
Born on March 15, 1918, in Durand, Wisconsin, Marjorie Goss studied art and design in high school and at the Stout Institute in her home state. In 1944, she moved to Los Angeles with her mother and worked in creative jobs, including designing Christmas cards and designing costumes for the Western Costume Company.
She worked on the films State Fair (1945), The Dolly Sisters (1945), and Dragonwyck (1946) before setting off for New York to design costumes for a play that never opened. While she was there she studied acting at the American Academy of Dramatic Arts and adopted her grandmother's name, Christine Larson, as her stage name. (1)
In 1946 or 1947, Marjorie Goss returned to the West Coast. She began acting in movies and television shows, many of which were in the Western, detective, and science fiction genres. (2) I am devoting this tutorial to her and her creative sensibilities.
You might also like: Easy Vintage Summer Hair Inspired by Bette Davis
Summer Scarf Tying Tutorial
I love the big bowed turban look, but it requires a really big scarf. I wanted to figure out a way to get the look using standard sized bandanas. I'm having a little fun with it too by using 2 different colors of bandanas, but you can matching colors if you choose.
Step 1
I tied the first bandanna into a standard turban style that covers the entire back of the head. Fold the standard square bandana in half so that it makes a triangle.
---
---
Step 2
Line the long folded edge up with the lower hair line and center it.
Step 3
The ends are what is tied together. The middle corner end just rests under the knot. Tuck around the back to make it so the bandana appears to be lying flat around the entire back of the head.
Step 4
Fold the other standard square size bandana in half the same way so it makes a triangle. Then roll/fold it lengthwise to be about 2-3 inches wide.
Step 5
Snake it under the knot of the first bandana. Then take each end of the new bandana and fold each over to get ready to tie them together in a bow.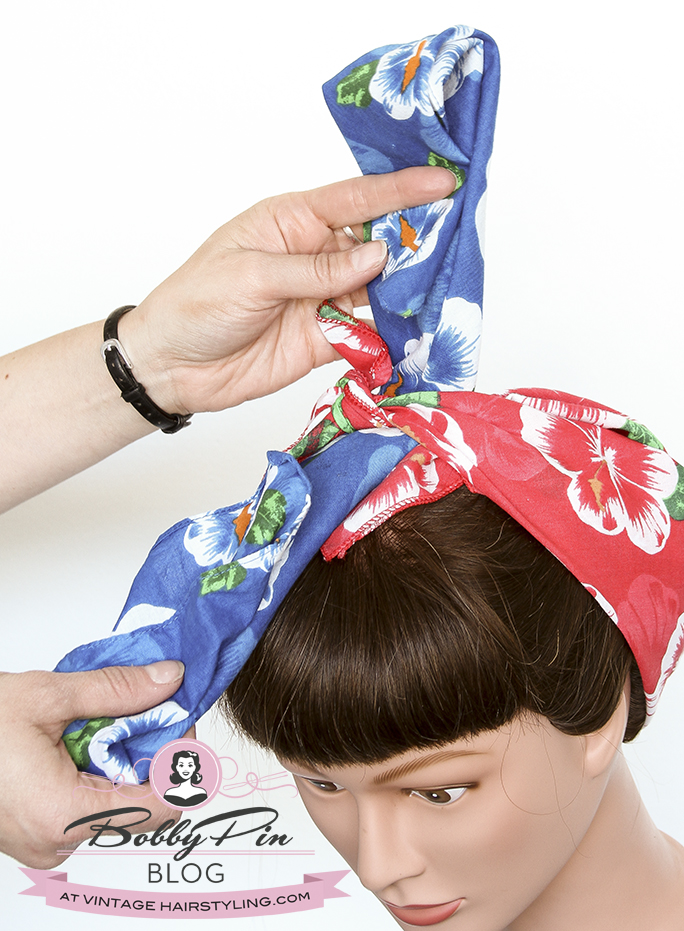 ---
---
Step 6
Fold them over each other and tie them into a bow.
Final
And there you go. Use bobby pins to help hold it on because the second bandana will make it harder to tighten it through the day.