Ways women wore false eyelashes in the 1920s, 1930s, 1940s, 1950s, and 1960s…
I have seen what I would call an explosion in the use of false eyelashes by everyday women in the last 10 years. What use to be a special occasion splurge has become an everyday routine. With either false strips or extensions or special eyelash growth serums…big, dark lashes are in. So let's look back on some of the history of false eyelash trends.
Victorian and Georgian Eras
Some of the earliest mentions of women using false lashes were in the Victorian Era. The French demimondaines in the 1860s and 1870s (hedonistic women of the time) wore lots of face makeup that sometimes included false lashes. (1) There are some disturbing accounts of a sort of eyelash transplant through sewing in the 1890s, but I won't get into the gruesome sounding details on that. (2)
In 1903, Charles Nessler, also known for inventing the first perming machine, started selling boxed pairs of artificial strip eyelashes called "Nestolashes". (3)
---
---
1920s False Eyelashes
In the early days of makeup, many adventurous girls got their makeup ideas from the movies. Early magazines were still advising girls that makeup should be subtle, but that is not what they were seeing on their favorite movie stars.
You might also like: Vanishing Cream… A 1920s Makeup Staple
During the 1920s, films were still silent…no speaking parts. The actresses, like Bebe Daniels, had to emote through their facial expressions. Long, thick lashes brought attention to their expressive eyes.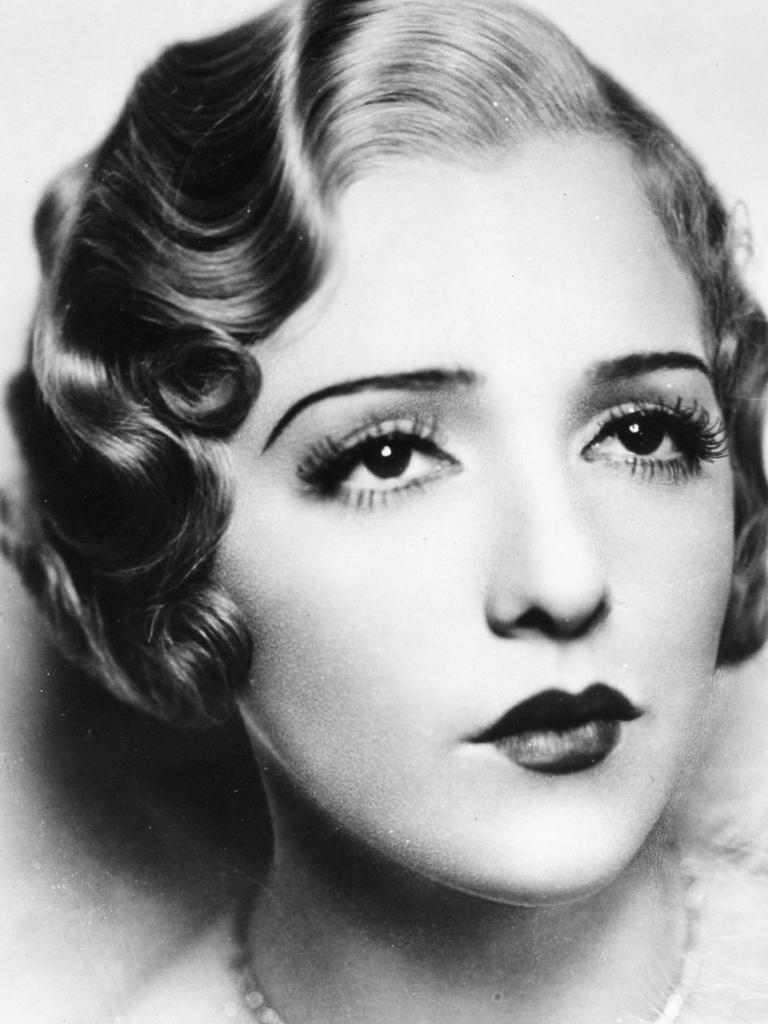 A popular (but difficult to execute) style of lashes in the 1920s was beaded eyelashes. The technique consisted of melting a type of cosmetic eyelash coating and applying beaded pieces of it to the ends of the eyelashes often with something like an orange wood stick.
1930s Eyelashes
It was only a matter of time before creative makeup artists put their eccentric spin on false eyelashes. Circa late 1920s/early 1930s, platinum and golden eyelashes were showcased at a New York City national convention of hairdressers, cosmetologists and beauty culturists.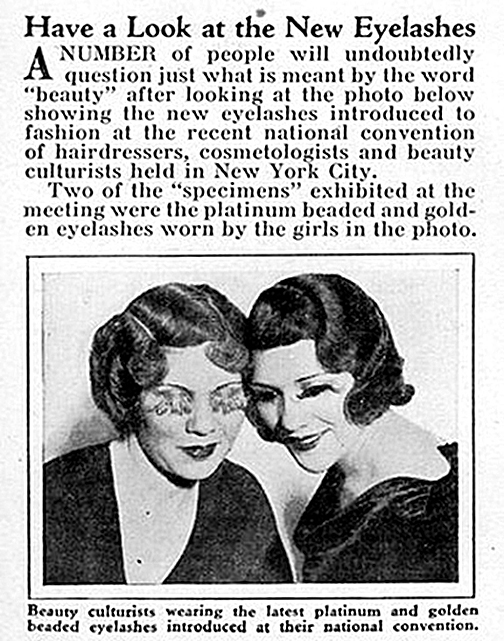 The drama of eyelashes was tamer by the middle of the 1930s. Actresses no longer relied so much on expressive eyes in the movies since talking pictures had replaced silent films.
You might also like: 1930s Nail Shapes and Polish Styles
---
---
1940s Eyelashes
Women everywhere in the 1940s were encouraged to be beautiful, but also modest with their makeup. WWII was utilizing much of the industrialized world's resources and factories, which left very little available resources for makeup manufacturing. False lashes would have been considered wasteful and superfluous.
After the end of WWII, once countries were getting their manufacturing systems back to accommodating consumerism, false eyelashes were manufactured again. In 1947, Eylure in the UK began selling false eyelashes.
1950s Eyelashes
The doe eye was the eye of the day in the 1950s. Lashes were an important part of that look. False eyelashes were available in the 1950s, but had not reached the prevalence they would reach a decade later in the 1960s. In the 1950s, women mostly still relied on eyeliner and mascara for thicker lashlines.
You might also like: Betty Draper 1950s hairstyle tutorial
---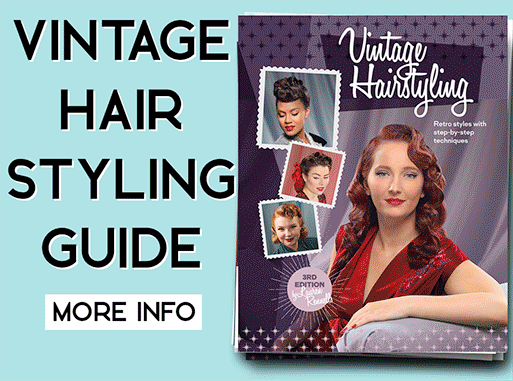 ---
1960s Eyelashes
False eyelash popularity exploded in the 1960s. Women would pile on 2 or 3 pairs of eyelashes layered on top of each other to get the thickest looking lashes possible.
Makeup on the new supermodels like Twiggy and young stars like Cher featured bold eyelashes in creative shapes.
You might also like: Beatnik Cool Hair of the 1960s
Makeup companies quickly jumped onto this creative shape bandwagon and manufactured false eyelashes in all kinds of shapes, sizes and colors.
Some eyelashes were made in a two-toned or tweed effect — double eyelashes of two different colors — green and brown, black and blue, brown and black, green and blue, henna and brown — any combination. (1)
The Bizarre Look…
Makeup artists and trend setters of the 1960s took false eyelashes to a whole new creative level. Bizarre avant garde styles used rhinestones and feathers and flower petals decorating at the eyelash line.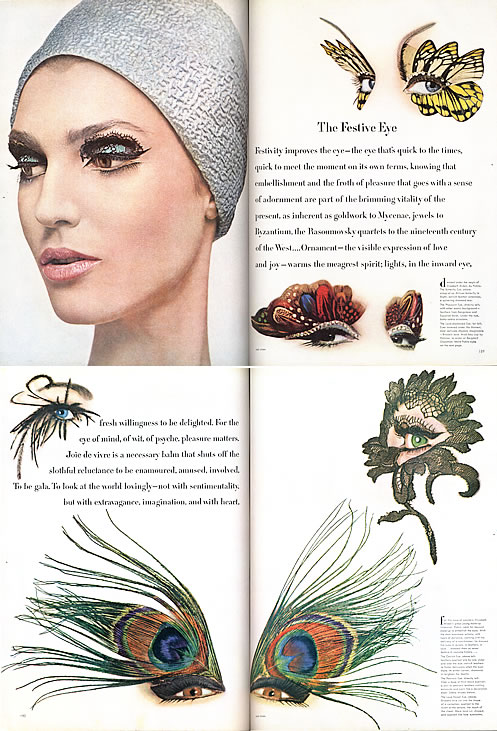 (1) Fashions in Makeup by Richard Corson
(2) TheQuackDoctor.com
(3) Cosmeticsandskin.com