I get a lot of questions about how to wear your hair with vintage hats. This great little article has some great tips—especially on how to style the hair that will actually sit under the hat, which is the challenge with wearing vintage hats. Read on for the full article!
From Charm Magazine 1954 (The magazine for women who work)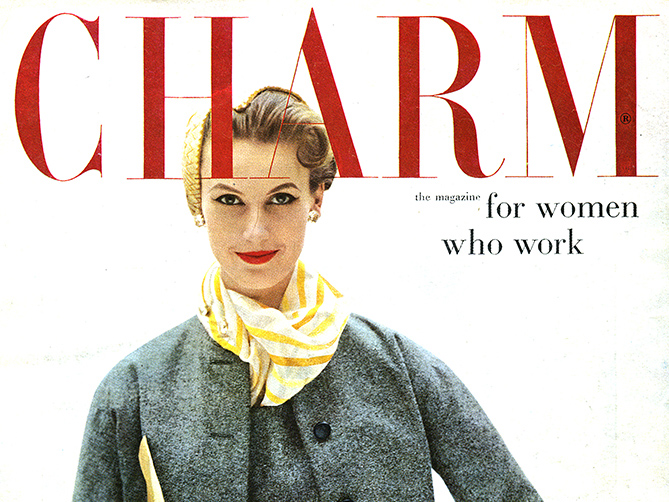 Hair and Hat can be a happy pair
To look your prettiest best, choose a hair style that's every bit as becoming under your new hat as it is indoors. The forward tilt of this season's hat calls for hair styles that look good aft as well as fore. Note the happy blending of hats and hair on these and the following pages—hats trim and worn well forward; hair that's a thought longer, a touch fuller, and , above all, easy—easy to keep looking nice, easy to wear.
Interoffice…
view of new slightly longer, short cut that half covers the ear, prettily shapes the head. Lovely for hair that does as it's told. Styled by Elizabeth Arden Salon.
Outgoing…
effect topped by tiny round pillbox, front sitting. Striped strawcloth, grosgrain trimmed. A Sally V designed by Sally Victor. White with blue and red stripes. About $13.
You might also like: 1940s Fall Makeup and Hair Guide
---
---
Climax…
of new sleek-top is gentle poufs over the ear. Simple, neat, and wonderful for soft, fine hair. Styled by Michel of Helena Rubinstein
Capped…
now with crushed velvet multicolored flowers, worn well forward and covered with light veiling, rhinestone-dabbed. Mademoiselle Lilly by Lilly Daché. $25.50
You might also like: A 1940s Guide to Wearing Hats
Hatless…
version of sleek-top center-parted—a shade softer at the temple, a little more casual over the ear. Styled by Michel of Helena Rubenstein
Hatted…
in mandarin shape; bandeau beneath crown for better fit, black lacquer quill aloft. Gage Hats. Finely sewn Swiss straw braid. Black, white, wheat, navy, red. About $12
---
---