In my studies of hairstyling, I come across something very common. History repeats itself. If you want to know what women use to do to create their beautiful hairstyles, you often just have to look at what women are doing today. Case in point… the hair switch.
In today's Bobby Pin Blog, learn what a hair switch is, it's place in beauty history, where to get one, and ideas on how to incorporate it into your vintage hairstyle today. Read on…
Disclosure: Some of the links in this post may earn me a commission. I link these items because of their quality and not because of the commission I may receive. I am an independent blogger and I write based on my own opinions.
What is a hair switch?
It is an additional hairpiece you can add to your existing hair temporarily for an updo look that you could not achieve with your existing hair. They are different from extensions, which are designed to make a down hairstyle appear fuller and longer.
---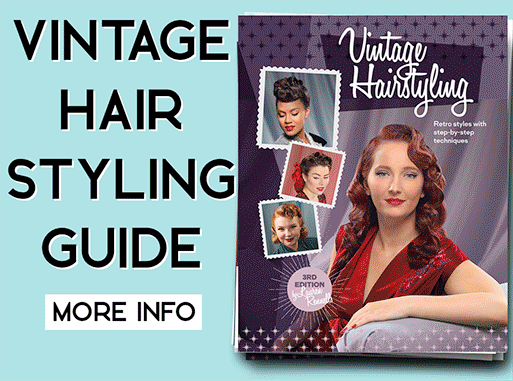 ---
Hair Switches History
Women of the Victorian and Georgian Eras' (1830s – 1910s) were a major market for hair switches. Most women did not have the amount of hair required for the popular intricate updos of the time.
Women's magazines advertised different styles of hair pieces, all made of human hair. Poor women sold their hair to be used in pieces sold to middle and upper class women. Remember the character Jo from Little Women? She sold her hair to a wig maker to get money. Hair was also being imported, like today, from countries like India and China.
What do hair switches look like?
The most common form of a hair switch is the ponytail type. It is a long, straight section of synthetic or human hair bunched together like a ponytail with a loop on the end for easy fastening. It is a versatile piece, because it can be twisted, braided, and curled into many different shapes.
100 years ago, a woman would buy the hair switch and then use hairpins or some type of a foundation tool to help her mold the switch into an intricate shape.
Today, hair pieces can be purchased in pre-shaped forms like Audrey Hepburn hair buns, curly puffs for creating a vintage poodle hairstyle, and pre-braided headbands. The affordable versions of these pieces are always synthetic and have that sort of plastic look to them. You can dull them with an art matte spray to make them look more like real human hair. (Spray it in a well ventilated space before you put it on your head please.)
---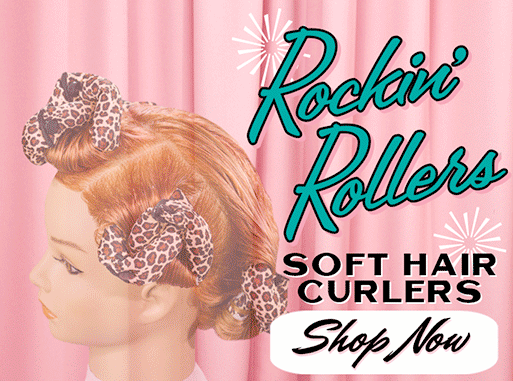 ---
Hair pieces continued to be popular in the 20th Century
Here are a few examples of hair switches and hair pieces used in the middle of the 20th Century.
---
Post war hair piece
This short piece was filmed in 1949 and would have been shown as a sort of commercial before a movie in a theater.
The 1950s Hair Switch
In a 1950s Charm Magazine, an article offers beautiful hairstyle options for the working woman using a hair switch.
Note: I love that the article refers to "Aunt Ellen" and her "Psyche Knot". The Psyche Knot was a hairstyle women did in the early 1900s and so this article recognizes that a woman of the 1950s would have grown up seeing that hairstyle on an older woman and thought it was "old-fashioned". Turns out younger generations, much like today, saw older styles as not so cool, unless they were the punk-rockers of the 50s.
Here is the full article…
The Quick Switch Magazine Article from the 1950s
Comes that morning when your hair's all ends. You can't stop off at the beauty shop. Your job won't wait. And pin curls are your idea of what the well-dressed woman will not wear to work. That's the morning when you'll thank your lucky stars if you own a hank of hair (just an old-fashioned switch—the kind Aunt Ellen wore to piece out her Psyche knot). With a switch, blended to match your own back hair, some big hairpins and small elastic bands, you can look groomed, serene and collected in less time than it takes to read this page.
Here are just four of the arrangements you can make with one quick switch, all classic, all timeless. It's a good idea to keep your extra hair combed and arranged all the time (you do it off your head anyway). Then it's ready when you need it in a hurry, which is when you mostly do.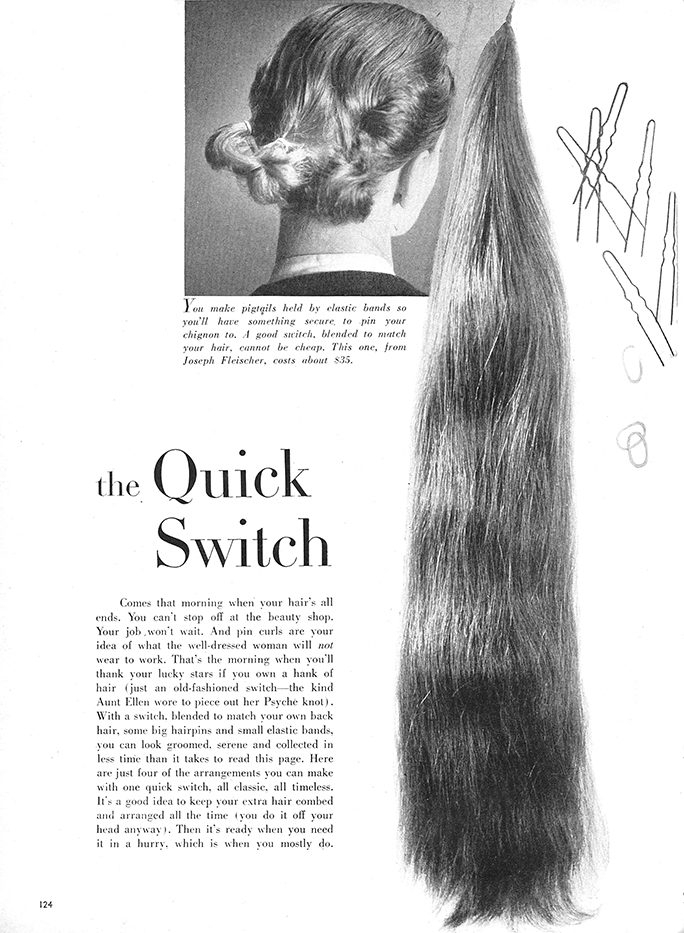 You make pigtails held by elastic bands so you'll have something secure, to pin your chignon to. A good switch, blended to match your hair, cannot be cheap.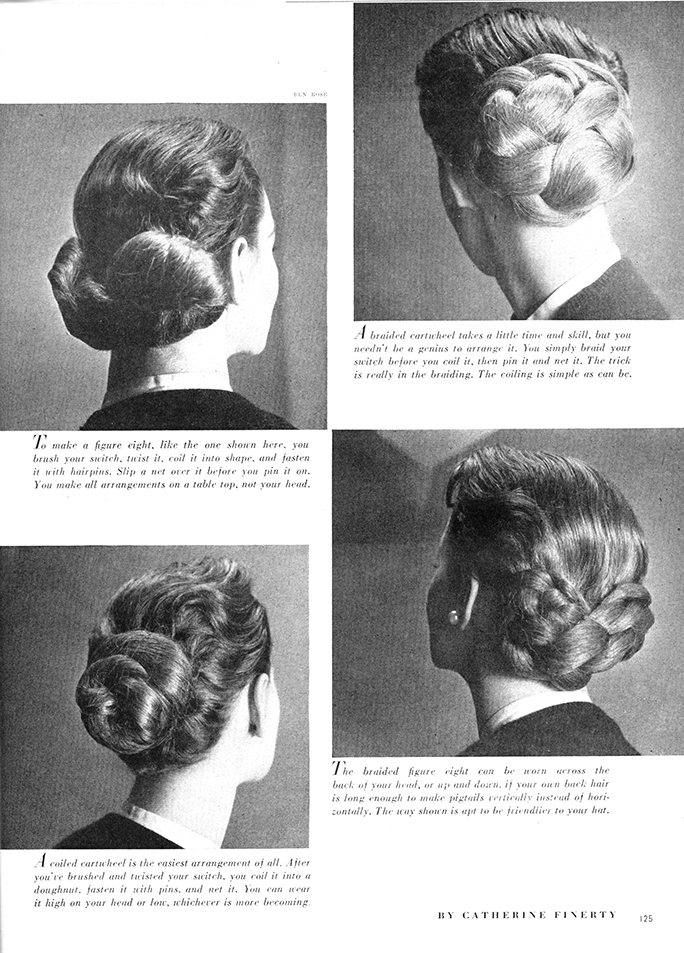 Figure Eight Style
To make a figure eight, like the one shown here, you brush your switch, twist it, coil it into shape, and fasten it with hairpins. Slip a net over it before you pin it on. You make all arrangements on a table top, not your head.
Braided Cartwheel Style
A braided cartwheel takes a little time and skill, but you needn't be a genius to arrange it. You simply braid your switch before you coil it, then pin it and net it. The trick is really in the braiding. The coiling is simple as can be.
Coiled Cartwheel Style
A coiled cartwheel is the easiest arrangement of all. After you've brushed and twisted your switch, you coil it into a doughnut, fasten it with pins, and net it. You can wear it high on your head or low, whichever is more becoming.
The Braided Figure Eight Style
The braided figure eight can be worn across the back of your head, or up and down, if your own back hair is long enough to make pigtails vertically instead of horizontally. The way shown is apt to be friendlier to your hat.
---
---
Where can I get a hair switch?
You can buy hair switches online or you can make one. There are lots of different hair pieces you can buy like the ones I mentioned before. With the pre-made synthetic pieces, you might be getting a color that is off from your natural hair and the effect won't be as great.
I would suggest making a ponytail hair switch personally. It is simple enough to make, easier to match your hair color, and you will save money. If you use a weft of real human hair, the hair sewn together in a long section, you or your colorist can color it to match your hair color perfectly.
The Sewing to Distraction blog has a great tutorial for making a ponytail hair switch. Follow this link. Most of the materials will be available at your local Sally Beauty Supply or craft shop.