In the classic 1960s television show, The Addams Family, Morticia Addams was the perfect, ghoulish midcentury housewife. With all of her many duties around the house, she kept up her hair and makeup routine in classic style.
Morticia's Classic Midcentury Makeup
The Addams Family television show was filmed in black and white, so the average watcher might assume that Morticia's lipstick was possibly pink or some other muted color.
But we have photographs on set in color of Carolyn Jones and her nails and lipstick are red. Red appeared as a medium grey color on the film used in cameras of the day.
The choice of red isn't too surprising considering the macabre subject matter of the tv show and that red was still a very popular lipstick color in the mid 1960s.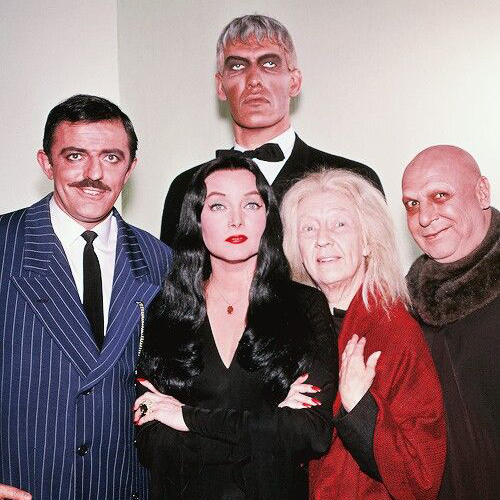 Carolyn Jones' eyeshadow was a wash of light blue that set off her blue eyes.
Morticia's eyeliner was a classic 1950s cat eyeliner and her eyebrows came to a pointed arch. This wasn't too different from Carolyn Jones' own eyebrow shape which was also very popular in the 1960s.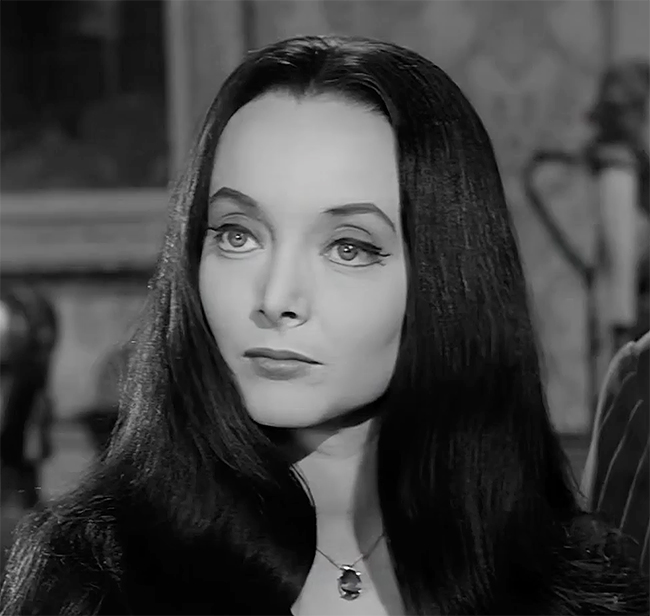 You might also like: Cobra Bangs of 1957
---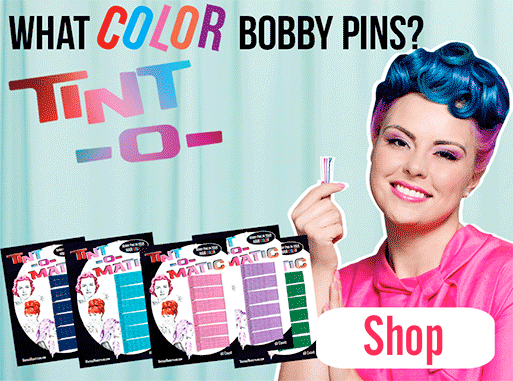 ---
TV Show Morticia Beauty Mythology
That all explains how the production styled the Morticia character for television, but the show also worked in its own mythology of what the character's beauty routine in the mansion was.
In the 3rd episode of the 1st season, a door-to-door cosmetics saleswoman visits The Addams Family mansion. Her first encounter is little Wednesday Addams playing in the tree outside.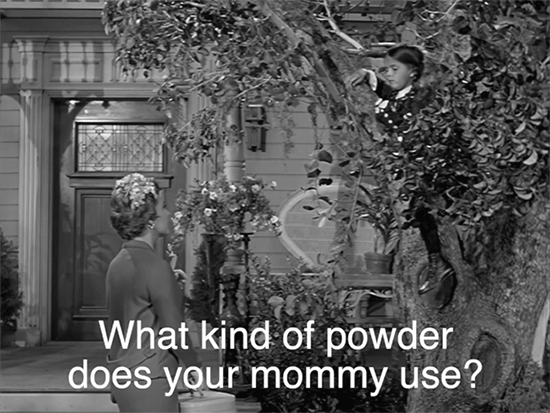 Wednesday is very forthcoming with information about her mother, so the Avon lady asks for help getting to know more about this potential customer. She asks the little girl what kind of powder her mommy uses.
Wednesday responds, "Baking powder."
Confused, the Avon lady says, "I mean on her face."
Wednesday, unfazed, responds, "Baking powder".
You might also like: Yvonne De Carlo… The Vintage Queen of Halloween
Also in the first season, Morticia gives her cousin Melancholia a makeover to help her land a man. Included in this beautifying day is a brow grooming session. Morticia asks her cousin to come to the mirror so she can, "pluck her eyebrows."
Her "tweezers" look like something from a surgeon's tool kit.
---
For my own Halloween costume this year, I styled a straight black wig like the classic 1960s TV show Morticia. Watch it on YouTube now.
---
Morticia's (and Wednesday's) Hair
I do wish the show had given us a glimpse of what type of curling technique Morticia used for her lovely waves. Maybe we are supposed to assume that her hairstyle is all natural body and volume.
But the show does reveal some of her haircare routine. She brushes her hair with a soft bristle brush at her vanity with a broken mirror and a few beauty jars.
But little Wednesday's hair does not get the same treatment. Mommy brushes Wednesday's hair with a piece of a prickly pear cactus.
Regardless of the strange beauty tools Morticia uses, she still embodies the beauty ideals of the mid 20th Century.
---
---