I know the title of this blogpost doesn't seem to have any rhyme or reason, but in a couple minutes you will see how a midcentury tiki intimate party plan, a vintage blue eyeshadow cream stick, and a powder pink floor sweeper are all tied together.
Stick around for this. It's full of joy and a gift at the end.
They all come together thanks to the Fuller Brush Company. Established in 1906, Fuller use to produce a promotional-magazine-and-product-catalogue-in-one called, "The Fuller Brush Magazine".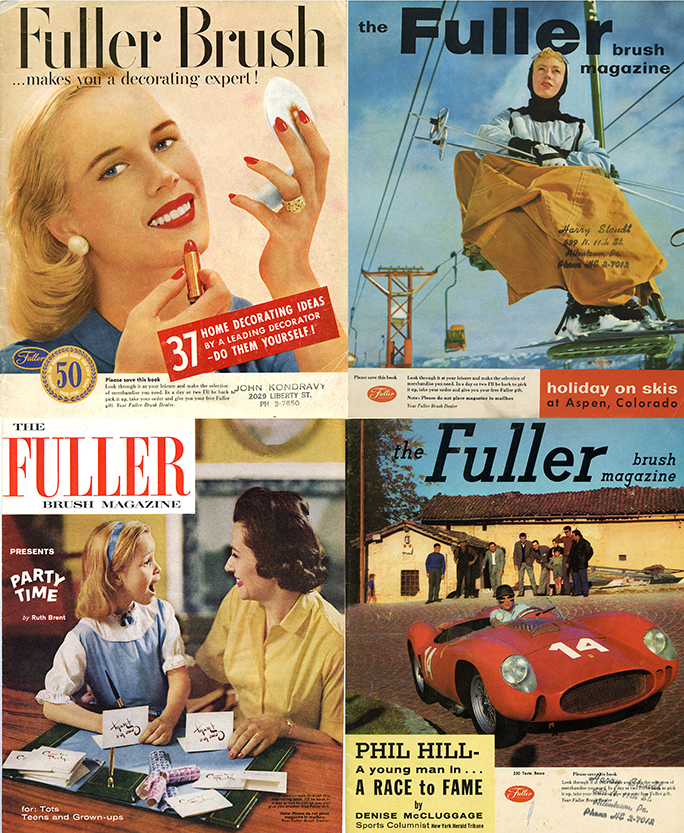 I found these gems searching Ebay for vintage hair and makeup publications, because Fuller Brush Co, along with hair brushes and cleaning brushes and cleaning products, also produced several lines of cosmetics and personal care products like lipstick, face powder, lotions, perfumes, soaps, talc, and the list goes on and on.
The magazines were part of the classic door-to-door salesman business model of the 20th century. Your Fuller Brush salesman would leave the catalogue with you after showing you the fine product samples and return the next day to take your order once you had a chance to go through the catalogue.
These Fuller Brush Magazines display, in beautiful full color images, all of these lovely products in their most amazing midcentury package design glory. AND…they are each themed to a specific subject and devote half the pages of the magazine to these wonderful, in-depth articles about whatever the subject matter of the moment was.
Today we are going to celebrate…literally…with
The Fuller Brush Magazine presents
"Party Time"
Midcentury Tiki Intimate Party Planning…
At the end of this blog post, I am sharing a pdf of the full "Party Time" magazine, so stick around!
The midcentury loved their theme parties as much as we do today. And, as we hunker at home, our social fulfillment is changing to a more intimate party experience at home as opposed to our favorite local tiki bars.
The Fuller Brush Magazine has got you covered! With this series of party theme directions by nationally known home entertaining and party decorating expert Ruth Brent, you too can have a midcentury luau with the people you love and trust. You can still find Brent's party planning books on websites like Abe Books.
This excellent magazine (pdf download at the end of the blog post) provides you with a luau menu, including a recipe for Aloha Ambrosia Flambe' Dessert. Also a pattern for these super midcentury fish cutouts and a Bird of Paradise centerpiece made out of a pineapple.
Vintage Blue Cream Eyeshadow Stick
And to the part of this catalogue that is nearest and dearest to my heart… a vintage blue cream eyeshadow stick
Some of the best package and product design in history happened in the 1950s and 1960s. America was prosperous and packaging design reflected joy and color.
In this one of many images from the catalogue featuring House of Fuller beauty and personal care cosmetics, you can see such stunning examples of midcentury design.
Not to mention the product names! Set for Sure Hairspray, Rich-Puff Hand Cream, and Lanolated Hair Dressing.
And of course the great examples of the makeup colors popular at the time. The copy in the catalogue reads "eight radiant shades…ranging pinks to reds" about the lipsticks. And about the eyeshadow cream stick…"To dramatize one's makeup. Fine textured cream…In three shades, blue, green or turquoise."
The Fuller Brush Company Today
Fuller Brush Co. is still going strong with cleaning and disinfecting products and cleaning brushes, which we all need more of now in a new age of Covid-19.
My audience knows I am always pushing to support small, local based businesses. The company is currently headquartered in Kansas where they still make all of their products there today!
I'm obsessed with this pink carpet and floor sweeper…
and they have the sweeper in mint too!
Here is a wonderful page on their website about their history, including the fun fact that our favorite Lucille Ball starred in a movie in 1950s titled "The Fuller Brush Girl"!
And as promised, follow this link to a download of